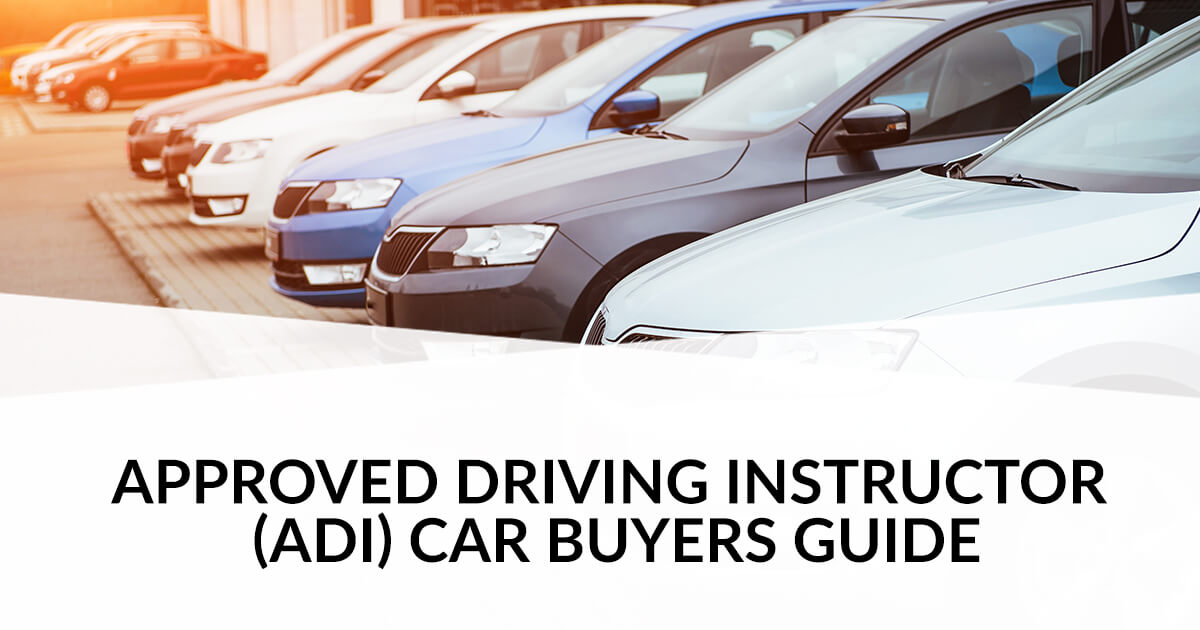 When choosing or changing your Approved Driving Instructor (ADI) car, there are a list of things to consider.
First Drive takes a look at some of the considerations for owning a car for your business. Buying or renting, setting a budget and tax breaks related to your car.
Owning a car will be the second biggest purchase for many behind buying a house. How to choose the right car and payment method can make a big difference to you and your business as an ADI.
Buying vs renting a driving instructor car 
Buying
Buying outright is the cheapest way of owning a car. There are specialist who can adapt the majority of cars for use by Approved Driving Instructors.
No interest repayments
No mileage limit
Control servicing costs
Simple with no contracts
Buying can also be a difficult way of owning a car:
Capital investment or savings required
Cash tied up in depreciating asset
Planning how long to keep the car
Renting
Renting can be a very easy way to use a car. It is expensive but with this method you can budget monthly to get everything included. Popular rentals include the PCP finance route or renting straight from a specialist company.
PCP or Hire Purchase
Fixed term contracts, hand the car back at the end
Often brand new models
Change your car regularly
Servicing could be included
There are some financial things to consider with renting:
Interest payments on money borrowed
Wear and tear charges at the end of the agreement
Mileage limitations
These and some other factors can catch you out if you do not fully understand the terms of the agreement, therefore it is important to study the small print. If renting from a specialist, they will have a good understanding of what is needed from a driving instructor car and set their contracts accordingly. however always shop around to get the best deal.
Other forms of finance include loans from banks or specialist lenders but also credit cards. Some cards will offer an introductory interest free period which means you can keep the interest costs down.
Setting a budget 
When choosing a driving instructor car, setting a budget is the first place to start. The more money you spend obtaining the car, the less you have to spend on your holiday! However it is not just a case of buying the cheapest car you can find.
The car has to be reliable. It is not cost effective for it to spend lots of time in the garage being fixed
The car has to be comfortable. Not only will you sit in it for most of the day but so will the students you train
The car must present well, appearing professional is the first step to being taken seriously
The car must be easy to drive and control for students who may never have driven before
Finding the right balance takes time to get right. It is absolutely essential to test drive multiple cars to find the right mix.
Duel purpose 
You may need your car for your social travel as well as for instructing. You may choose to set the budget a little higher in this instance as day to day comforts do make a difference to ownership.
Paying tax
Talk to your accountant about which tax breaks relate to your situation. Finding the right way of claiming and paying tax is crucial keeping your business finances in check.
Buying the car outright will entitle you to a form for tax break but potentially only for the year of purchase
Monthly payments or repayments might be able to be offset against your next tax bill for the duration of the agreement
Seek advice about the category your vehicle fits into as there is no clear route to take regarding tax payments
Find a driving instructor specialist who has good experience with your needs